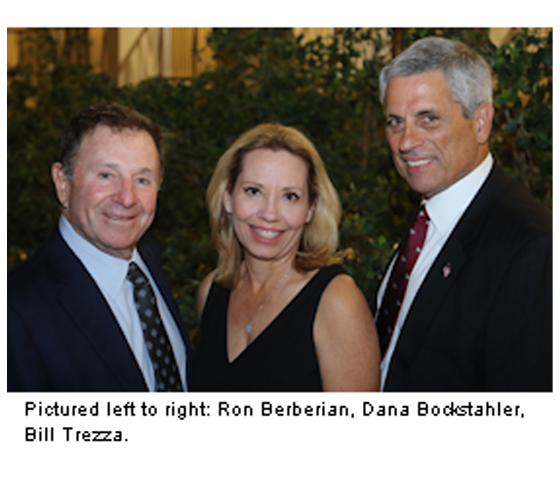 Trezza Retires, Bockstahler Steps Into New Role
Stockton, Calif – January 28, 2019 – William R. (Bill) Trezza, Chief Executive Officer of BAC Community Bank, retires after 37 years of visionary leadership, cultivating relationships, developing staff, and ongoing community support. Bill has led BAC Community Bank through growth and development while creating an executive team to lead for years to come. This executive team consists of successor Chief Executive Officer Dana Bockstahler (hired in 1987), Chief Financial Officer Jackie Verkuyl (hired in 2003), Chief Credit Officer Janet Jenkins (hired in 1983), and Chief Lending Officer Paul Haley (hired in 2011).
Over the years, Dana Bockstahler has filled many roles at BAC Community Bank, from chief financial officer to operations administrator. "She served as chief operating officer for the past 15 years, and as such managed the Bank's daily affairs," said Trezza. "This enabled me to work extensively in the field with customers and prospects."
Bockstahler's appointment as CEO is a natural progression in her responsibilities at BAC Community Bank. "I look forward to building upon the strong community relationships and financial foundation Bill developed over the years," said Bockstahler.
"Bill has been an integral part of BAC Community Bank for the past 37 years. It is difficult to put all of his accomplishments into words," Ron Berberian, the Bank's chairman and president stated. "And through most of those years, Dana Bockstahler and the rest of our executive team have worked hand-in-hand with Bill making the Bank what it is today."
Berberian added, "So that there is no impact to customers, preparations for a seamless transition have been in the works for quite some time."
The experience and longevity each executive team member brings to the table is invaluable. "Our executive management team has worked together at the Bank for a collective period of almost 90 years," Trezza points out. "Each executive team member played a key role in navigating the Bank through challenges of the past severe recession. With such experience, I am very confident that this well experienced team will successfully tackle any challenge that the future may bring."
Bill remains an active member of the Bank's board of directors and continues to work with several local community organizations into his retirement.
About BAC Community Bank
BAC Community Bank serves the communities of San Joaquin, Stanislaus, and eastern Contra Costa counties and is identified as "one of the strongest financial institutions in the nation" by BauerFinancial, Inc. The Bank first began business in the farming town of Brentwood over 50 years ago and remains focused on providing high quality local community banking to the families and businesses it serves.
BAC Community Bank is a member of the Federal Deposit Insurance Corporation and is an Equal Housing Lender. More information and online account opening are available at www.bankbac.com.
Media Contact:
Josef Britschgi
BAC Community Bank
Telephone: (209) 473-6821
Email: [email protected]