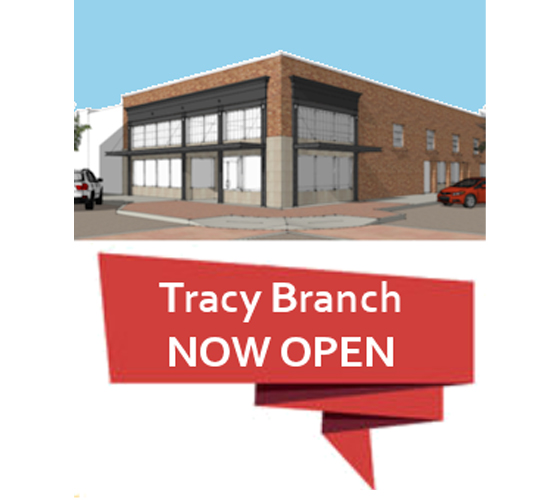 BAC Community Bank Now Open in Tracy
STOCKTON, Calif. – June 8, 2016 – BAC Community Bank has opened its new downtown Tracy branch office located at 951 North Central Avenue. While finishing touches continue to be made on the newly renovated building on the corner of 10th & Central, bank customers who have been waiting for the local office to open are now able to transact business inside.
Official grand opening festivities will be announced as these plans are finalized.
"This is a very exciting time," says Judy Cerri Rodriguez, the Bank's relationship manager who has been spearheading efforts to open this new office.
The new full service branch is managed by Ada Silva, working along with Iesha Simmons who was joyfully introducing families to the bank this past weekend at the Mountain House Kite Festival. The Tracy team will also include Lawrence Benoit who will join the branch staff later this month.
Tracy Branch
951 North Central Avenue
(209) 855-8150
Lobby Hours:
Monday - Thursday: 9:00-5:30
Friday: 9:00-6:00
About BAC Community Bank
BAC Community bank operates 11 branch offices throughout San Joaquin, Stanislaus, and eastern Contra Costa counties and was recently identified as "one of the strongest financial institutions in the nation" by BauerFinancial, Inc. The bank began business north of Tracy in the town of Brentwood 51 years ago and has remained focused on providing high quality local community banking to the families and businesses it serves.
In addition to full service traditional banking, this family-owned bank provides such cutting edge business banking services as remote deposit capture, positive pay, and lockbox. Consumer offerings include KASASA® deposit accounts, mobile banking with mobile deposit and mobile bill pay, as well as person-to-person money transfers through text messaging or email.
BAC Community Bank is a member of the Federal Deposit Insurance Corporation and is an Equal Housing Lender. More information and online account opening are available at www.bankbac.com. The Tracy branch office can be reached by calling (209) 855-8150.
Media Contact:
Josef Britschgi
BAC Community Bank
Telephone: (209) 473-6821
Email: [email protected]