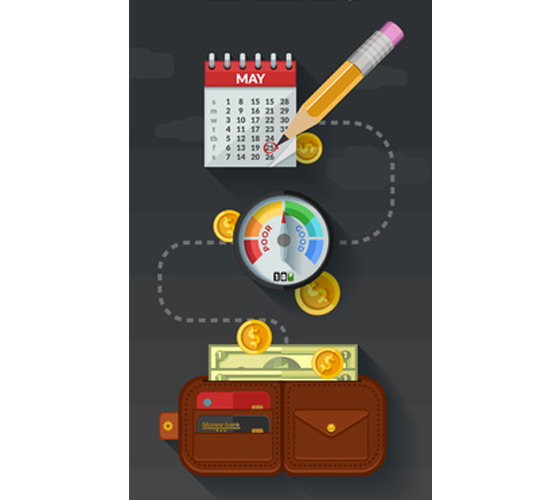 Simple Ways to Improve Your Credit
Whether you're just getting started on your finances, or working to fix past mistakes, improving your credit score is an important step toward a healthy financial future. Your credit can affect whether you can buy a car or house, get an apartment, or even get a job.
There are some simple things you can do, starting right now, to get your score moving in the right direction.
Make payments on time. Your FICO score is based on a combination of factors, the biggest of which is your payment history, accounting for 35% of the score. Pay all of your bills on time, and rectify overdue bills as soon as possible. If you haven't in the past, redouble your efforts now and, eventually, it'll pay off.
Keep your balances low. If you already have a credit card, try to keep your utilization — that is, the amount of debt you carry in relation to your credit limit — at a manageable level. It looks bad to creditors if all the cards you already have are maxed out. A good goal is to keep your balance at no more than 30% of your credit limit.
Don't just apply for everything. Putting in an application for one more credit card might have little or no effect on your credit score, but if you apply for too many in a short span of time — and end up bringing down the average length of your credit accounts — your score can take a hit. Apply only for cards you really want, and space out those applications.
Check your credit reports. You're entitled to see your credit report from each of the three major reporting agencies — Experian, Equifax and Transunion — once a year, for free. (You may have seen ads for sites that claim to provide these reports for free. The one that truly is free is AnnualCreditReport.com.) Get your reports, read them carefully and flag any errors that might be hurting your credit.
Ask a trusted professional. It's easier to get on the right track if you have somebody smart in your corner. Financial institutions such as BAC Community Bank have experienced banking professionals who can point you towards additional resources that can help you figure out the best way to build, or fix, your credit.
Your credit score and your credit report affect a whole lot more than whether you'll be offered a Platinum card. They can touch all corners of your financial life. Fortunately, with some care now, you can ensure they make you look good in the years to come.
Article written by Doug Gross, NerdWallet. Used by permission. Copyright © 2015 NerdWallet, Inc. All Rights Reserved.