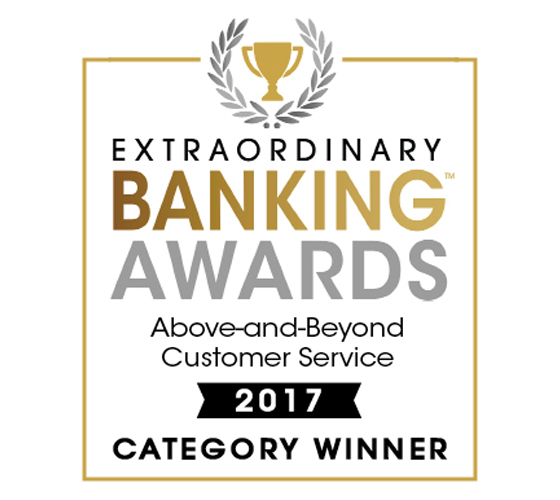 Local Bank Receives National Recognition for Customer Service Excellence
STOCKTON, Calif -- November 7, 2017 -- For the second year in a row, local family-owned BAC Community Bank has been named one of the top extraordinary banks in the United States by the Institute for Extraordinary Banking.
This year, BAC Community Bank was recognized with two awards. In addition to receiving a Banky™ Award – the Mark of Excellence for Community Banks – BAC Community Bank was also recognized for its exemplary focus on customers by being presented the Institute's Above-and-Beyond Customer Service Excellence award among banks with $500 million to $1 billion in assets.
The Extraordinary Banking Awards exist to highlight the vital, yet often overlooked, role that local community banks play in our economy.
One recent conference noted that although community banks represent only 13% of all banking industry assets, they provide 43% of lending for small farms and small to medium-sized enterprises – a substantial piece in building a strong local economy.
BAC Community Bank employs a relationship approach to banking, and demonstrates its dedication to providing a superior customer experience to its retail and commercial banking clients through continual advancements in technology coupled with personalized attention.
Recent technology enhancements include substantial upgrades to the Bank's core banking systems, a redesign of Personal Internet Banking, simplified banking statements, and the introduction of Same-Day ACH for corporate customers.
Additionally, improvements to Personal Mobile Banking for iPhone, iPad, and Android devices, along with the launch of Business Mobile Banking packed with cash management features, have all been recently released.
Such initiatives focus on continuously improving the customer's experience and the Bank's capabilities.
Receiving this year's Banky™ Awards reinforce the recognition of the commitment to excellence of bank staff and management demonstrated by the many local awards won by BAC Community Bank on a regular basis. Please visit www.bankbac.com for a full list of achievements, along with details about leading-edge banking services available online and at any local branch office.
About BAC Community Bank
BAC Community bank operates 11 branch offices throughout San Joaquin, Stanislaus, and eastern Contra Costa counties and is identified as "one of the strongest financial institutions in the nation" by BauerFinancial, Inc. The bank first began business in the town of Brentwood over 50 years ago and remains focused on providing high quality local community banking to the families and businesses it serves.
BAC Community Bank is a member of the Federal Deposit Insurance Corporation and is an Equal Housing Lender. More information and online account opening are available at www.bankbac.com.
Media Contact:
Josef Britschgi
BAC Community Bank
Telephone: (209) 473-6821
Email: [email protected]