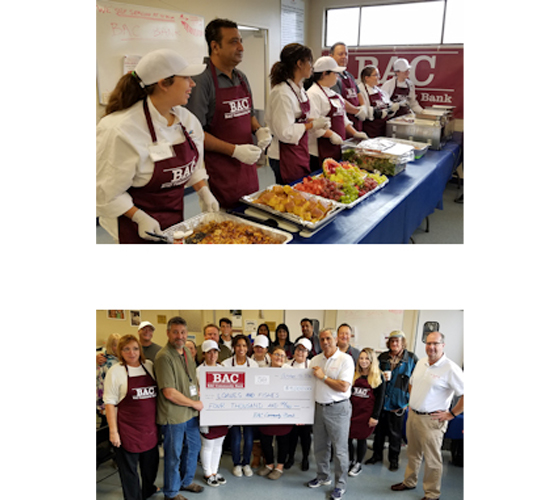 Martinez Youth Feed the Hungry While Learning Life Skills
Culinary Students Trained By Loaves and Fishes of Contra Costa Work with Local Community Bank Executives to Provide Saturday Breakfast at Martinez Dining Room
MARTINEZ, Calif – October 17, 2016 – In an effort to build awareness of the services provided by Loaves and Fishes of Contra Costa, along with its unique Culinary Training Program, program students were joined by executives and other management representing BAC Community Bank at the Martinez dining room to prepare and serve breakfast to more than 100 individuals in need this past Saturday.
After being in the program for just two weeks, the seven culinary students prepared quite a breakfast. The menu included baked egg strata, hash brown potatoes, bacon, sausage, fruit compote, honey corn bread, maple bread pudding, and a green salad.
"These kids are amazing," said Sally Van Slyke, head instructor of the culinary training program. "Each of them has their own unique story of challenge and struggle, but just look at what they can do."
The culinary training program provides one-on-one training to a small number of high school students in an after school group setting. Upon completion of the five week course, students receive food service certification and job placement assistance. Students who desire to further their education are guided through the enrollment process at Diablo Valley Community College.
"This is quite a program," remarked Brian Siebold, vice president and senior relationship manager of BAC Community Bank in Concord. "It provides a hot meal to those less fortunate while helping students in need gain employment skills."
After breakfast was served, BAC Community Bank provided Loaves and Fishes of Contra Costa a check donation to help fund the culinary training program.
"We are honored to help underwrite this program so that Loaves and Fishes can better serve our local community," said Bill Trezza, BAC Community Bank chief executive officer.
About Loaves and Fishes of Contra Costa
Loaves and Fishes of Contra Costa works diligently to feed the hungry of Contra Costa County throughout the year. Each month LFCC distributes 15 tons of groceries and serves 14,000 hot meals designed to fill the nutritional needs of Contra Costa residents who face food insecurity on a daily basis. Through its Culinary Training Program, LFCC trains Martinez Unified School District high school students in basic culinary skills to provide an introduction to careers in the culinary industry. More information is available at www.loavesfishescc.org.
About BAC Community Bank
BAC Community Bank provides full service business and consumer banking. This family-owned bank first began business in the town of Brentwood over 50 years ago and remains focused on providing high quality local community banking to the families and businesses it serves throughout eastern Contra Costa, San Joaquin, and Stanislaus counties. More information is available at www.bankbac.com.
Media Contact:
Josef Britschgi
BAC Community Bank
Telephone: (209) 473-6821
Email: [email protected]